Beer News
News
by
Jim Wells
| Jul 2013 | Issue #78
More Celebrities Collaborating with Craft Brewers
If one needs assurance of just how popular craft beer has become, you need only look at the spate of celebrity-branded brews popping up on shelves in recent months. Musicians AC/DC, Iron Maiden and even '90s pop stars Hanson have all unveiled their own offerings. AC/DC has teamed up with German brewery Karlsberg to offer a "Premium Pils"; Iron Maiden's Trooper is a Golden Ale produced by British brewery Robinsons; and Hanson's MmmHop IPA is a joint venture with Oklahoma's Mustang Brewing Company.
Former White Sox slugger Frank Thomas also joined with Minhas Craft Brewery of Monroe, Wis., to brew his Big Hurt Beer.
Among the more seemingly adventurous and complex of these offerings is The Tom Green Beer, the product of famed comedian/film star Tom Green and Beau's All Natural Brewing of Ottawa, Canada. The beer is a limited-release offering, being sold at a series of stand-up shows taking place during Ottawa Craft Beer Week.
Green tells BA that he's a big fan of craft beer, and was introduced to Beau's co-founder Steve Beauchesne through a mutual friend just over a year ago. Beauchesne explains to BA that they needed authenticity to avoid being seen as a mere stunt.
"[The] beer really needed to relate to Tom or else it would feel to me like just a marketing gimmick," Beauchesne says. "[And that] took work. We talked and emailed for close to a year to get that, but in choosing a Milk Stout, it just came together perfectly." If the Tom Green Beer is well received, it will likely see a more widespread release across Ontario.
Coors Can Causes Controversy at NYC's Puerto Rican Celebration
MillerCoors angered New York's Puerto Rican community when a localized marketing tactic went awry. In honor of New York City's Puerto Rican Day Parade, which MillerCoors also sponsors, the company released a limited-edition Coors Light can displaying the Puerto Rican flag wrapped around the bottom of the can. However, the Puerto Rican community protested the association between their country and a corporate beer brand, particularly due to the parade's theme: "Salud: Celebrate Your Health."
A media backlash soon followed the release of the can, with politicians, community activists and other citizens all making their voices heard. New York City Puerto Rican activist group Boricuas for a Positive Image was one of the loudest dissenting voices. In addition to organized protests, the group issued a press release stating, "We believe Coors has insulted the Puerto Rican community by using this promotion before the parade. … This is an insult to our culture, history and flag."
Coors took the cans off shelves shortly before the parade took place. In a letter to BFPI, MillerCoors spokesman Nehl Horton states, "We apologize if the graphics on our promotional packaging inadvertently offended you or any other members of the Puerto Rican community."
Removing the cans from shelves wasn't enough to quash the scandal, though. New York State Attorney General Eric Schneiderman is reviewing the involvement of MillerCoors as a sponsor, investigating whether the company's charity arm contributes to the parade beyond marketing MillerCoors products. In 2011, MillerCoors also had to pull an ad for the parade that the Puerto Rican community found too closely associated the idea of getting drunk with the cultural holiday.
Malfunctioning Beer Fridge Responsible for Australian Cellular Network Blackout
An otherwise unassuming beer fridge is being blamed for causing a neighborhood's cellular network to temporarily black out near Melbourne, Australia.
Apparently, the motor within Craig Reynolds' fridge had become faulty and was sending out unusual electrical currents that interfered with the cell network. The telephone company, Telstra, identified the interference and pinpointed the specific refrigerator as its source using advanced computer software bots and specialized antennas.
While this is the first time such interference has been reported as coming from a refrigerator, Telstra has said that other machines, including ATMs and illegal TV or cellular signal boosters have also caused problems in their network.
TTB Opens Door for Beer, Wine, Spirits to Add Nutrition Labels
On May 28th, the United States Alcohol and Tobacco Tax and Trade Bureau (TTB) issued voluntary guidelines for breweries, wineries and distilleries to add nutritional information to their product packaging. This means that breweries aren't required to add this information to their packaging, but they're free to do so if they choose.
The TTB explains via press release, "The ruling allows 'Serving Facts' statements that include the serving size, servings per container, calories, [as well as] the number of grams of carbohydrates, protein and fat per serving. Additionally, Serving Facts statements may include information about the alcohol content of the product as a percentage of alcohol by volume and may also include a statement of the fluid ounces of pure ethyl alcohol per serving."
While most brewers have yet to issue any official public support or opposition to these guidelines, Diageo—owners of Guinness, Red Stripe and Smithwicks, among other brands—is perhaps the most vocal supporter of this ruling. Guy Smith, executive vice president of Diageo North America, states via press release, "While there is still work to be done, this action by TTB … is a stunning leap forward for consumers who have a clear right to know what is in their drink."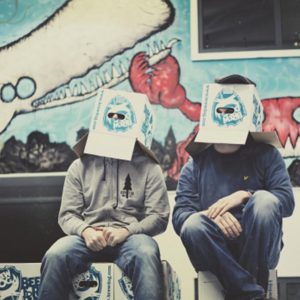 BrewDogs Set to Air Scottish Brewery Founders' Hijinx on US TV this Fall
American televisions will soon be facing a Scottish invasion. A reality TV series starring James Watt and Martin Dickie, founders of Scottish brewery BrewDog, is set to air this September on the Esquire channel (formerly G4). The show, aptly titled BrewDogs, follows Watt and Dickie's adventures across the United States.
"[We] brew beer on a moving train, we blow stuff up, we brew on a ferry, we hit up a chocolate factory, we do impromptu beer tastings … and we experiment with the world's most caffeinated beer," Watt tells BA. "We also spend a lot of time with some of our favorite American brewers, like Stone and Elysian, who are doing awesome work in the craft beer scene."
Watt explains that the show draws its inspiration from BrewDog's own video blogs. "They've been the catalyst for the TV show and showed the cool, crazy, zany stuff we're up for at BrewDog. [BrewDogs] is basically an expansion on our video blogs on a much bigger, whackier scale."
According to Watt, the show's mission "is the same in everything we do: to make other people as passionate about craft beer as we are. That's what we focus on every day in the brewery, and that's what this show aims to achieve too." ■