Beer News
News
by
Jim Wells
| Oct 2011 | Issue #57
Long Trail Lends a Hand to Citizens in Need
On August 28, Tropical Storm Irene made landfall in the eastern US. While damage was widespread in multiple states from South Carolina to Maine, Vermont was hit particularly hard by the storm. Irene's intense rainfall caused local rivers to overflow and flood several towns in central Vermont. Highways were washed away, downtowns were flooded, and people's homes and livelihoods were carried away with the rising waters.
The area surrounding Bridgewater Corners, Vt., was severely impacted by flooding during Irene. While the Long Trail Brewery & Visitor Center was in the middle of it all, it managed to escape any serious flooding or damage. Unfortunately, many others in the region weren't so lucky. After the storm passed, local residents found many important roads had been completely washed away, leaving them cut off from access to food, electricity and other necessities.
People were in need, and Long Trail stepped up to lend local towns a hand. Notifications were sent out for people to head to their Visitor Center for food, water, electricity (to charge their phones and other devices), and supplies like diapers and baby formula. In the days following the storm, their restaurant was preparing upwards of 300 meals per day—breakfast, lunch and dinner—for those in need.
The Red Cross also used the brewery grounds as a relay point to drop off supplies that were then lifted via chopper to the towns of Rochester, Killington and Plymouth, which had become inaccessible by the washed-out roadways.
Long Trail president Brian Walsh tells BA, "We at Long Trail feel very lucky and fortunate that we were able to not sustain the damage our neighbors did. We also feel gratified that we could provide a little bit of home away from home for folks. Many of whom who came by had lost everything." Walsh continues, "We were very happy to have folks come to our place, and we did it because it was the right thing to do. We all need to understand how devastated these people's lives were."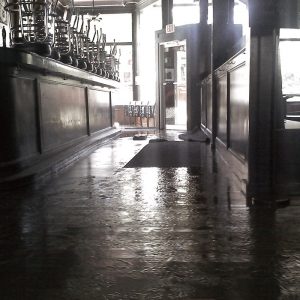 Brewers Throughout the Northeastern US Cope with Floods
Long Trail might have been spared, but other small businesses in Vermont weren't as lucky. The Flat Street Brew Pub in Brattleboro was completely flooded, and The Alchemist Pub, situated on Main Street in Waterbury, also fell victim to the floodwaters.
Alchemist founder John Kimmich explains to BA via phone, "At the peak of the flooding, there was about 3 feet of water at the bar, in addition to the full basement. Our serving tanks—which probably contained 1,400 pounds of beer—had become a tangled mishmash, bobbing at the top of the water and thumping the floor underneath me."
Despite the extensive property damage, things could have been worse. Kimmich had flood insurance, and is hoping to finish rebuilding in four to six months, adding increased energy efficiency and seating capacity. Their off-site cannery was spared from the flood, and has been selling out of the 30 barrels of beer per week it produces.
Kimmich was also able to save two full tanks, which fellow breweries Rock Art, Hill Farmstead and Harpoon have helped bottle to use as the sole source of fundraising for the pub. "Harpoon delivered kegs for us to empty our tanks into, then brought them to their cooler in Windsor. Rock Art will be contributing their bottle-conditioning expertise once we bottle it at their facility."
Kimmich is grateful to have the support of fellow brewers and the community, and isn't taking anything for granted. "You know, life can become 'work, work, work,' and you might not realize the role you play in the community until it's not there for the people anymore."
Can Extra Bubbles Give Foster's a Lift?
Heineken UK, in an attempt to perk up sales of Foster's draft lager in pubs, is introducing a new proprietary tap dubbed "The Pourtal." This bubble-boosting tap claims to create "the perfect head" by improving on the brand's previous custom-made "Head Injection Tap" technology.
The new tap, which took over two years to develop, encourages bartenders to pour to get as little head as possible. Then at the push of a button, the head is blasted into the pint by driving beer through a smaller second nozzle, which creates a layer of tiny bubbles that Heineken UK claims will "lock in the taste." Tests have also shown the beer retains its fizziness substantially longer.
Mark Given, brands director of Foster's at Heineken UK, says, "Consumer tastes and expectations are becoming more sophisticated and more demanding, and we want to meet the opportunity … by ensuring that pubs and clubs consistently deliver a great-tasting pint. Foster's has been at the forefront of draft dispense technology since the brand pioneered the use of the revolutionary Head Injection Tap (HIT) more than a decade ago, and the new Foster's Pourtal tap takes that technology to a new level."
Heineken UK hopes to roll out the apparatus to 7,000 pubs in the first six months, eventually increasing the number of locations to 30,000 within two years.
Yuengling Expands Distribution to the Buckeye State
It's been a long time coming, but America's oldest brewery is finally introducing itself to the state of Ohio. Thanks to recent renovations to the Mill Creek, Pa., brewery, Yuengling has the production capabilities needed to fully support the thirst of an additional state.
The beer will be rolled out in two phases. The northeastern region (which includes Cleveland and Columbus) will receive their first shipments in early October. The rest of the state (including Toledo and Cincinnati) will have to wait one more month to invite Lord Chesterfield home for a nightcap. Ohio is the only state bordering Pennsylvania that does not sell Yuengling brews, and the move will increase Yuengling's distribution footprint to 14 states.
Pat Noone, Yuengling business development manager, explains via press release, "Consumer awareness of our brands is very high in Ohio. Retailers in the state have anticipated our arrival for a long time, and it's exciting to finally bring Yuengling Beer [sic] to our neighbors in Ohio."
The World's Strongest Fermented Beer, Fresh from a Deer
The rapscallions over at Scotland's BrewDog have unleashed another record-setting ale, both in terms of alcoholic strength and dispensary ingenuity.
BrewDog claims that the beer, named "Ghost Deer," is the world's strongest fermented beer—a barrel-aged Blonde Ale weighing in at a hefty 28 percent ABV. This ranks just above the previous record of 27 percent, which was held by the Samuel Adams' Utopia series. Other beers with comparably high ABVs—whether from BrewDog or other breweries—were all created using various freeze-distillation techniques, and were not the result of exclusively fermenting.
For those wondering where the name "Ghost Deer" comes from, the beer is rigged to pour straight from the mouth of a taxidermied stag's head. BrewDog founder James Watt explains in a blog post, "It is designed to push the boundaries and challenge people's perceptions about what beer is and how served and enjoyed [sic]. In true BrewDog fashion we've torn up convention, blurred distinctions and pushed brewing and beer packaging to its absolute limits. This beer is an audacious blend of eccentricity, artistry and rebellion; changing the general perception of beer one glass at a time."
The deer's head debuted September 7th at BrewDog's Edinburgh bar, to positive feedback. According to Watt, the beer will only be served on-tap from the deer's head, and "the deer himself will decide where he will next appear." ■
Previous:
"Our Sources Say ..."
Next:
Saving Oktoberfest