Beer News
News
by
Jim Wells
| Jan 2012 | Issue #60
Westvleteren Trappist Ales to Make US Debut in 2012
Fans of Trappist ales (beers produced by the seven breweries affiliated with Trappist monasteries) will soon have a good reason to celebrate: The Abbey of Saint Sixtus of Westvleteren, producers of the famed Westvleteren 12 ale, will begin to appear on US shelves in April of 2012. The abbey is shipping cross-continental in an effort to help raise money to fund a planned expansion and make much-needed repairs to their existing buildings.
The brews will be imported by Shelton Brothers Importers of Belchertown, Mass., and at least one other importer, Manneken-Brusel Imports of Austin, Texas. Pricing is still being finalized, though it is certain to be less than the hundreds of dollars some beer fans have been paying via online auction sites (which don't even allow the legal sale of alcoholic beverages in the first place).
Westvleteren is still a very small-scale operation, as the brewery operates only as a means to support the abbey, and not to generate profits. In 2010, they produced roughly 3,800 barrels.
Westvleteren plans to release the brews in special gift sets, which include six bottles and two glasses. Shelton Brothers will distribute 7,760 of these packages, but specific destinations are still to be determined.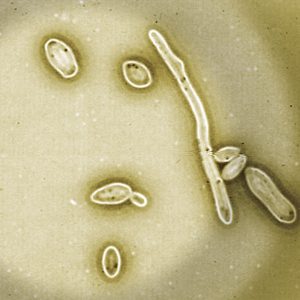 Scientists Decipher Genetic Code of Brettanomyces Yeast
The Australian Wine Research Institute has announced that they have successfully decoded the genome of Brettanomyces (Dekkera bruxellensis) yeast, which they intend to use to prevent wine spoilage.
Brettanomyces (or "Brett") is considered the bane of winemakers the world over, but more adventurous beer brewers have come to embrace the yeast as a unique agent that can provide beer with distinct flavor and aromatic characteristics.
Now that Brett's genome has been fully sequenced, scientists are working on discovering which parts are responsible for imparting specific characteristics. While the study was primarily conducted with wine in mind, the results will likely also apply to beer. Theoretically, the more scientists are able to understand about the yeast's genetic construct, the easier it will eventually become to engineer individual strains that are more or less reactive to specific conditions.
The research was conducted over the course of several months, and was funded by the AWRI's fundraising branch, the Grape & Wine Research Development Corporation. Their funds were also matched by the Australian government.
SABMiller Purchases Foster's Group
On November 25, the Australian federal treasurer formally approved the sale of Foster's Group, Ltd., as well as Foster's 50-percent stake in Pacific Beverages, to SABMiller. The sale was then approved by Foster's shareholders on December 1, with SABMiller officially taking control on December 2nd. The Financial Times reports that SABMiller values the sale at approximately A$11.5 billion. The deal gives SABMiller control over nearly 50 percent of Australia's beer market share.
The negotiations took about six months, with SABMiller submitting multiple proposals before finally receiving the approval of enough Foster's shareholders with an offer of $5.53 per share.
In an official statement, Foster's chairman David Crawford declared it was "an historic day for shareholders," and reiterated that they ultimately received a fair deal from SABMiller. Crawford continued to say that the "revised proposal … delivers certain cash proceeds in an uncertain global economic environment. … While the ownership of Foster's may soon change, the beer and the brands will still be produced in Australia and be developed and brewed by Australians."
Foster's adds to SABMiller's expansive portfolio, which includes other global brands Pilsner Urquell, Peroni, Miller Genuine Draft and Grolsch, as well as smaller brands, like  Aguila, Castle, Miller Lite, Snow and Tyskie. SABMiller is also one of the world's largest bottlers of Coca-Cola products.
House Bill 4061 Legalizes Homebrew Sharing at Michigan Meetings
On November 10, Michigan Gov. Rick Snyder signed House Bill 4061 into law. This new law makes it legal for homebrewers' clubs and associations to serve homebrewed beers to one another during gatherings in public places like bars and restaurants.
Previously, if a homebrew club met and served their brews to one another, the establishment they gathered at could lose their liquor license. This also applied to any homebrew competitions.
Now, all any homebrew club needs to do to comply with the new law is to submit a written request to the desired host establishment, stating their club's name, the event's date, time, and location, and that they will assume any applicable legal liabilities. No standard form has been created yet, but one will likely be developed soon.
The bill was championed by American Homebrewers Association governing committee chair Chris Frey, and sponsored by homebrewer and state Rep. Douglas Geiss.
UPDATE: Prohibition Pig to Open in Place of The Alchemist Brewpub
Chad Rich, former bar manager at The Farmhouse Tap and Grill in Burlington, Vt., will be leasing the space formerly occupied by The Alchemist Pub & Brewery in Waterbury, Vt. As reported in BeerAdvocate issue #57, The Alchemist, one of New England's landmark pubs, was severely damaged by floods caused by Hurricane Irene. The new bar will be called Prohibition Pig, and Rich plans to hire back staff members who lost their jobs when The Alchemist closed, although the chef will be a new addition.
Building owners Jen and John Kimmich had every intention to clean up, rebuild and reopen, but mounting financial and logistical hurdles prevented them from reopening as planned.
A November 18 statement to Alchemist supporters from Jen Kimmich explains: "There were many factors that helped us come to this decision. Primarily, we have recently learned that none of the contents in our basement were covered by flood insurance. Unfortunately, our basement was the lifeblood of our business—our brewery, our beer, all of our food and our offices were in the basement. Moving forward, we have come to the realization that rebuilding our basement brewery is not a viable option.
"Moreover, and probably most important, we will move our seven barrel brewery to our new production brewery," Kimmich continues. "Once we have installed the brewery, John will be hard at work, supplying the community with his creative and tasty small-production beers." ■
Previous:
The Tiresome Tap Takeover Trend
Next:
Looking Back, Looking Forward