Beer News
News
by
Jim Wells
| Jan 2013 | Issue #72
Photo by Dan Dickinson
New French Beer Tax Elicits Outcry from EU Brewers
On December 4th—despite protest from French citizens, hospitality workers, European breweries and even the US Senate—the French Parliament passed a bill that will increase the excise tax rate on all beer, both locally produced and imported, by as much as 160 percent, but leaves the country's current wine tax unchanged.
The passage of this bill has sparked outrage and disbelief from brewers and residents alike, both within France and in fellow European nations. Roughly a third of all beer consumed in France is imported, and much of that comes from neighboring Belgium. The Belgian brewing community in particular is making their discontent known to the French government.
The Belgian Brewers Federation said in an official statement, "The most remarkable aspect is the discriminatory, protectionist nature of this decision. By contrast, there is almost no excise on wine and no increase is planned."
The tax hike will adversely affect France's small-but-growing craft beer sector. Pierre-Olivier Bergeron, secretary general of The Brewers of Europe, states via press release, "The beer market in France is forecast to decline by up to 15 percent as a result of this measure and jobs in the 35,000 hospitality establishments in France would be particularly hard hit. … This will further accelerate the existing trend from café to home consumption, which has already contributed to the closure of 12,000 establishments since 2007."
Under the new law, breweries producing less than 200,000 hectoliters will pay €3.60/hl, when they previously paid between €1.38 and €2.07/hl. The tax rate on breweries with an output greater than 200,000 hectoliters annually will jump from €2.75 to €7.20/hl.
Oskar Blues Partners with Local Community College for Hands-On Brew Course
While construction on Oskar Blues' new Brevard, N.C., brewery and restaurant nears completion, their enrichment of the local community has already begun. Oskar Blues has teamed up with Brevard's Blue Ridge Community College to offer aspiring brewers the chance to enroll in "Oskar Blues Brew School."
The 16-week course helps students build a foundation of brewing knowledge with a blend of instructional theory and hands-on experience. At the end of the course, participants will take the General International Beer and Distribution Certification exam, which is an internationally recognized exam offered by the United Kingdom's Institute of Brewing and Distilling. Blue Ridge Community College will become an official IBD examination center.
Oskar Blues marketing director Chad Melis explains to BA, "With the recent additions of Sierra Nevada and New Belgium to the area, we thought there may be a shortage of qualified and experienced people there. What better way is there to try and help infuse that existing craft beer scene than continuing to build craft beer professionals? Education is a key ingredient of that."
When registration opened on December 3rd, Melis says, "All 20 spots filled up in less than 10 minutes." The Brew School idea took shape over the span of a month and a half. "We put it together pretty quickly," Melis says. "The college was great to work with. When we talked to them, they recognized what a great opportunity it was. … They're really excited that we're so willing to invest in the future of craft beer there."
Melis expresses that Oskar Blues is grateful to be able to provide this opportunity. "It's just a way for us to give back to that already-existing craft beer culture … and provide an experienced and educated workforce for all brewers in the state."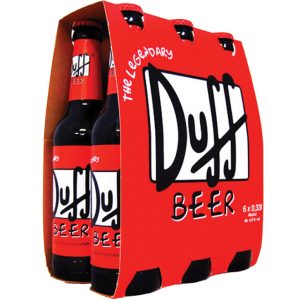 Trademark Battle Ends as German Courts Rule to Allow Two Different Duff Beers
While Duff beer (the preferred beverage of cartoon character Homer Simpson) likely won't ever be seen in America due to US trademark laws (and the tenacity of the Twentieth Century Fox legal team), German courts have ruled to allow two separate Duff beer brands to coexist.
German brewery Eschweger Klosterbrauerei has been producing Duff Beer UG, which shares the iconic branding of the cartoon drink, since 2007. Another German brewery has held a trademark for Duff beer since 1999, but has allegedly not been actively making use of it. Klosterbrauerei's lawsuit sought sole ownership the Duff trademark.
On December 6th, the Federal Court of Justice ruled that the original holder of the Duff trademark may keep it. Additionally, Duff UG will be allowed to continue operating as they have been. While Duff UG has earned popularity and notoriety throughout much of Europe, Simpsons creator Matt Groening has expressed concern that any real-life Duff beer would encourage minors to drink.
Study Claims Hop Compound May Help Fight Common Cold
A new scientific study funded by Japanese brewery Sapporo claims that a compound found in beer can help protect against and combat symptoms of the common cold.
The specific chemical, known as humulone, is found in hop plants. The study found that humulone boosts the immune system's defenses against the respiratory syncytial (or "RS") virus. RS thrives in winter-like conditions and causes pneumonia and bronchitis in children, and cold-like symptoms in adults.
Don't swap out your cough suppressants for a case of IPA just yet, though. The study goes on to note that since the amount of humulone in the average beer is so minute, one would have to consume 30 12-ounce servings to see any measurable effects. However, this shortcoming may only be a temporary setback. Scientists have begun working on ways to extract humulone for consumption in other forms, such as adding it to food. According to the scientists, their next challenge is trying to create humulone-fortified food with a flavor that kids will tolerate.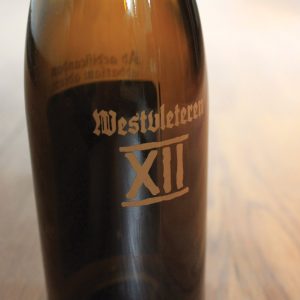 Westvleteren XII Finally Released to Much Fanfare, Some Controversy
On December 12th, 22 states received shipments of Trappist ale Westvleteren XII, the first time the beer has been sold outside the walls of the Belgian Abbey St. Sixtus. The monks released the beer in order to fund expensive repairs and an expansion of the abbey. The ale was sold in special gift boxes consisting of six 12-ounce bottles and a pair of goblets.
Many retail establishments that received an allotment of the coveted Quad held special events or conducted drawings to ensure consumers had a fair share at purchasing a package. Under strict orders from the abbey, sellers had to adhere to an $84.99 price tag, which reportedly left a very low profit margin for the storefronts. Still, customers lined up, and many stores sold out in a matter of minutes.
However, not all retailers felt they got a fair shot at having an opportunity to sell Westvleteren, especially in states where specialty beer importer Shelton Brothers—which the abbey hired to distribute the beer east of the Mississippi—had arranged an exclusive deal with Total Wine, a chain of retail stores. This deal meant that many smaller independent shops were effectively excluded from this milestone event.
In a December 4th blog post, the Shelton Brothers state, "[We] aren't perfect, but we think we've done as much as we could have been expected to do to make this very small amount of an extremely sought after beer as available as possible. If we've upset you … we ask your forgiveness." The post continues, "[We] have not viewed this special one-time project as a reward for any given distributor or retailer. There also isn't much profit involved here. … Our mission is simplicity and charity. It would do no good to divide the tiny number of packs we were to receive across every store selling our beer. Consumers would be sent on a scavenger hunt. Prices would vary wildly.  Our hope is that these packs are selling for the same $85 in each location." ■