Branded: Beer Logo Tattoos
Feature
by
Jason Notte
| August 1, 2012 5:30 p.m.
Brand loyalty may be a contentious issue, but these consumers still made commitments to one beer or brewery. Whether it's a reminder of friends and family, or a tribute to that first eye-opening brew, these beer-logo tattoos are proof that craft beer can mean more than just a tasty drinking session.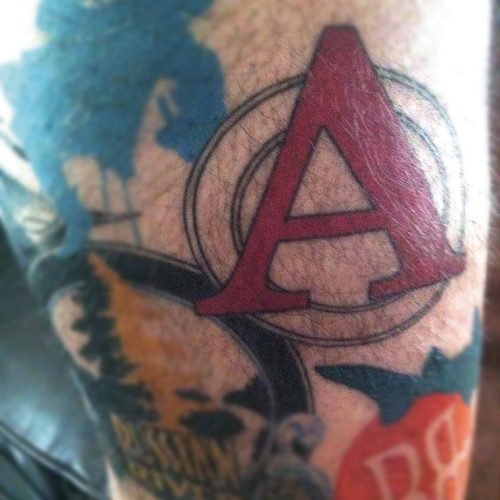 Until the needle hit his skin, Sam Wynne thought he was going to back out of his first tattoo, a hop vine. "Forever is a long time," he says. Clearly, he overcame that apprehension—now he counts among his beer tattoos the logos for Avery, Breckenridge, Dogfish Head, Russian River, Cantillon, Deschutes and Stone's Sublimely Self-Righteous Ale, plus some brewing images. As the assistant beer director for the Flying Saucer and Meddlesome Moth bars in Austin, Texas, Wynne says his personal and professional lives revolve around craft beer. "Art is something everyone enjoys, and what better form than permanently inscribing things I love on my body."
Artist: Josh Paul, Dovetail Tattoo // Austin, Texas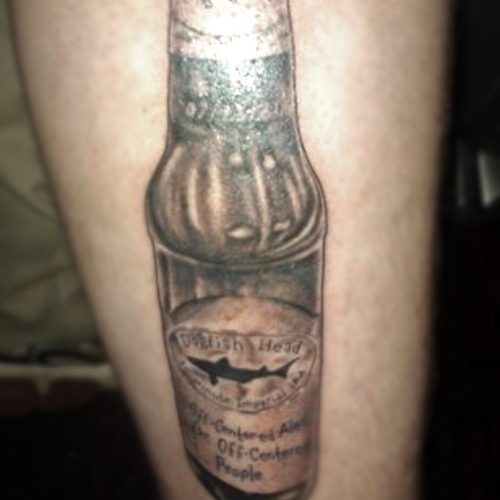 James Vance got his Dogfish Head 90 Minute IPA tattoo the night of his beer-themed bachelor party, but it'd been on his wish list for a while. "It's not like I got a Bud Light logo when I was hammered, and woke up and just shrugged about it," Vance says. "It's art, and so is the beer it represents." Not only does the born-on date correspond to his birthday, but 90 Minute was Vance's "light bulb beer," turning him on to craft beer as a hobby and later, as a profession—now he's a beer buyer at craft-centric restaurant BlowToad in Richmond, Va. "Beer is a big part of my life," Vance says. "It's how I provide for my family, and it all started with a Dogfish Head 90 Minute bottle."
Studio: Pain and Wonder Tattoo Studio // Athens, Ga.
Matt Deapo doesn't pretend to have any high-minded philosophy about tattoos. "I really think people get them because they look cool, and I'm not afraid to admit that that was the reason I got one," he says. But he's quick to add that he's "fascinated" by Fantôme's beers, and how they can vary from bottle to bottle. "Each time I shared one with a friend, it was like we were on an adventure," he says. It's that same sense of novelty that Deapo loves about craft beer. "I feel like brand loyalty isn't really a positive trait for craft beer drinkers. The most exciting part of drinking beer, to me at least, is trying a variety of different beers from different brewers and appreciating what makes each one unique."
Artist: Steve Tiberi, Olde City Tattoo // Philadelphia, Pa.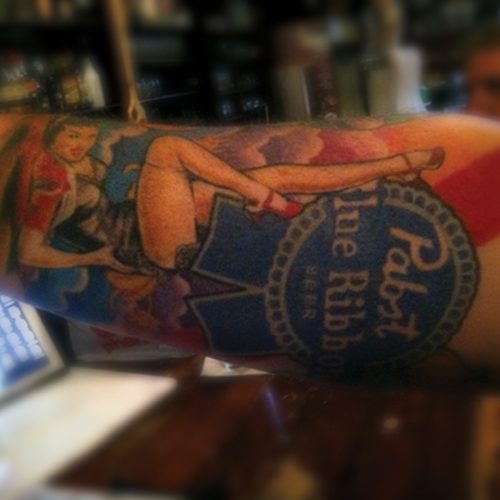 When Mike London was 11, he drank his first Pabst Blue Ribbon in the shed while his stepdad was out to sea. Later, it was the first beer to get him drunk, and the featured beer at his first kegger. So at 26, when he landed a bartending gig at Miller's Downtown in Charlottesville, Va., he immediately ordered some cases. Today, he says the bar still sells more PBR than anyone in the area. "To celebrate my victory—and my tips—I went and got my Pabst tattoo," the now head bartender says. London appreciates that PBR has pulled "no gimmicks with lime or bottle shape, no dogs or celebrities" (except one with Patrick Swayze, he admits). "Just straightforward, affordable beer that does taste great," he says. "I think that's how you should do business."
Artist: Jon Hunter, formerly of Capital Tattoo and Ben Around Tattoo // Charlottesville, Va.
As the beer department head of Texas bottle shop Spec's Dallas, Bobby Orozco says he sees plenty of brand loyalty, and he wanted to express his own. "I felt like it was time to have a commitment to good beer, and to me, Ska defines this." For Orozco, Ska not only makes his go-to brews ("I have my refrigerator in my brew room full of Ska beer, so when I'm back there working, I can just crack a can of Modus [Hoperandi]")—he also loves the company's culture, citing them as the "underground" of craft beer. "Besides," Orozco adds, "who doesn't want a beer-drinking villain like Pinstripe drilled in their arm?"
Artist: Dave Woodard, Saints & Sinners Tattoos // Carrollton, Texas
Greg Engert and some friends were drinking at The Brickskeller in Washington DC when the idea of getting a beer tattoo as a group struck. "[We] started examining the bottle stash we had unearthed for this particular drinking session," Engert says. "Orval was popped, discussed and quickly agreed upon." They got inked the next morning. While an aged bottle of Orval was Engert's "'eureka' beer," and he stocks it regularly at DC's ChurchKey, Birch & Barley and Rustico (where he's the beer director), Engert says the tattoo reminds him of the past and his friends as much as his passion for beer, adding, "My loyalty begins and ends with the passion inherent in the production."
Artist: Susan Behney-Doyle, Jinx Proof Tattoo // Washington, DC
Chris Shea is "prickly" about brand loyalty. For him, it's more about trusting a brewery's standards. "Still," he adds, "I'll always be loyal to Pretty Things as long as [founders] Dann and Martha [Paquette] are loyal to Pretty Things." While Shea, who's the head brewer at New Hampshire's White Birch Brewing, stockpiles bottles of Pretty Things beers, he also admires the company's ethos. "Beer is Dann's way of entering the world, much as any artist uses his or her medium to connect with the public," Shea says, which lets consumers feel a "personal connection" with each beer. It's that connection that inspired him to get "Jack [D'Or] carved into my chest," he says. "My tattoos … remind me of what is possible with hard, focused work."
Artist: Midwest Rick, TRX Tattoo & Piercing // St. Louis, Mo. ■