Beer News
News
by
Andy Crouch
| Dec 2007 | Issue #12
By Andy Crouch & Todd Alström
Grolsch Swings to SABMiller
The classic swingtop bottle will soon have a new owner. SABMiller recently announced its intention to purchase Koninklijke Grolsch N.V., the Netherlands' second-largest brewer, for $1.2 billion. With its distinctive green bottle and a tradition dating back to 1615, Grolsch and its $440 million in annual sales are an addition to SABMiller's portfolio of premium "worthmore" brands, which includes Pilsner Urquell and Peroni.
Announced on the heels of its upcoming joint venture with Coors Brewing, the deal achieves two ends for SABMiller. In early 2007, SABMiller lost its contract with Heineken International to brew and distribute the Amstel line of products in its home market of South Africa. SABMiller's relationship with Amstel accounted for two million barrels of production and $18 million in annual earnings. The addition of Grolsch's Premium Pilsner, which accounts for nearly 90 percent of the brewery's sales, will allow SABMiller to market an iconic imported lager brand in the African republic.
The deal also allows SABMiller to take control of a brewery whose brands Anheuser-Busch recently secured for importation and distribution in the United States. Anheuser-Busch intended to use the Grolsch brands, which also include the Amber Ale, Light Lager and Blonde Lager, as part of its strategy of funneling premium products to its wholesalers. While SABMiller's representatives initially said that it would not look to change the brand's American distribution relationships, SABMiller's chief financial officer Malcolm Wyman acknowledged that the company would seek to enter into discussions with Anheuser-Busch after the deal is finalized. [AC]
Widhook or Redmer?
After nearly a year of speculation and discussion, two of the craft brewing industry's oldest breweries have announced their intention to merge. The agreement between the Widmer Brothers Brewing Company of Portland, Ore., and the Redhook Ale Brewery of Woodinville, Wash., will be called the Craft Brewers Alliance. The deal will create one of the nation's largest craft breweries.
Widmer's president and brewmaster, Kurt Widmer, will serve as the company's chairman of the board, and Redhook's president and founder, Paul Shipman, will serve as chairman emeritus and retire from active management of the company. "I believe that the merger will allow us even greater opportunity to deliver unique and great-tasting beers for our customers," said Widmer in a news release. "The two breweries have worked well together over the past few years, and I'm confident that we will be even stronger as one company," said Shipman. Redhook has brewed Widmer's Hefeweizen at its Portsmouth brewery in New Hampshire under a licensing agreement since 2003.
Relations have not always been so positive between the two companies. In a 2006 filing with the Securities and Exchange Commission, Redhook complained that its brands were getting shortchanged in the joint sales and marketing effort, the Craft Brands Alliance (CBA), it forged with Widmer in 2004. In that filing, the brewery blamed losses on CBA's "unsuccessful execution of its sales and marketing strategy for Redhook's core and emerging products," while it had "been very successful selling the Widmer and Kona products."
If approved by regulators and shareholders, including Anheuser-Busch, which has a minority financial interest in both breweries, the company will have approximately $113 million in annual sales on more than 500,000 barrels of production. [AC]
So… Canadian Beer Drinkers are Destroying the Environment, Eh?
According to a government-commissioned study by Natural Resources Canada, of Canada's 11.5 million households, 1 in 3 is playing host to a second fridge that's old, energy inefficient, costing their owners upwards of $150 a year to run, and sucking up roughly 3,500 million kilowatt hours each year from gas- and coal-based electricity.
"They don't have to feel bad about it," said Denise Young, an associate professor at University of Alberta who conducted the research through the Canadian Energy End-Use Data and Analysis Centre. Instead, Young and others are urging Canadians to turn in their old fridges. The Ontario Power Authority collected 45,000 old fridges during its Great Refrigerator Roundup in June, in which the power-guzzling appliances were collected for free, stripped and recycled, and all chemicals disposed of properly.
"People need to understand the impact of their lifestyles," said Joanna Yarrow, director of Beyond Green, a sustainable development consultancy in the UK. "Clearly the environmental implications of having a frivolous luxury like a beer fridge are not hitting home. This research helps inform people—let's hope it has an effect." [TA]
Irish Police Launch Manhunt for the "Dublin Beer Bandit"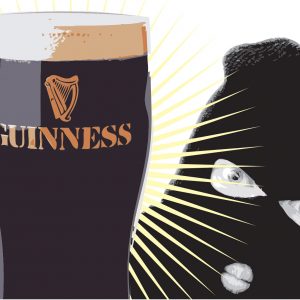 A lone thief managed to drive into the Guinness Brewery in Dublin, Ireland, this past November, hitch his cab truck to a fully loaded trailer and then drive off through the front gates without being noticed. The beer bandit made off with a total of 450 kegs of beer. Specifically, 180 kegs of Guinness, 180 kegs of Budweiser, and 90 kegs of Carlsberg—the latter two brands are brewed under contract for Ireland.
Grainne Mackin, a spokeswoman for parent company Diageo commented, "It's a serious breach of our security." Serious indeed, as the heist cost Diageo approximately €64,000. After retail and tax markups, that's roughly €160,000 (over $235,000 US) in sales at Irish pubs of nearly 40,000 pints of beer.
The Garda Síochána, Ireland's national police force, announced a nationwide manhunt and is appealing to the public for information. "All CCTV footage on site is being viewed and the Gardai are also looking at CCTV footage along the quays. The haul has a significant value given this time of year. We have more trailers coming in and out this time of year as we are coming up to Christmas," added Mackin. "What could they possibly want with all that beer?" [TA]
Czech Brewer to Launch a 21 Percent "DDB"
Few brewers can make the claim of brewing a beer with over 20 percent alcohol by volume (ABV)—Samuel Adams Utopias (25 percent) and Dogfish Head 120 Minute IPA (20 percent) being two—however it's come to BeerAdvocate's attention via Drinks International that Czech brewer Drinks Union has just launched the country's strongest beer weighing in at 21 percent. Described and labeled as a "Doppel Doppel Bock," the high-octane Czech-brewed German-style beer is currently slated for distribution in Germany with plans for US export. "You could describe it as a liqueur beer," explained Daniel Vasha, Drinks Union's brewery technical director.
BeerAdvocate was unable to verify their claim, as no other specifics are available—at least not in English—and Drinks Union failed to respond to our contacts in time for print. [TA] ■
Previous:
One Year of BeerAdvocate Magazine!
Next:
Beer Resolutions