Bavik Super Pils
| De Brabandere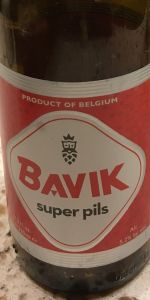 BEER INFO
Brewed by:
De Brabandere
Belgium
bavik.be
Style:
German Pilsener
Alcohol by volume (ABV):
5.20%
Availability:
Year-round
Notes / Commercial Description:
No notes at this time.
Added by BEERchitect on 09-15-2016
Reviews: 4 | Ratings: 10
3.62
/5
rDev
-2.7%
look: 3.5 | smell: 4 | taste: 3.5 | feel: 3.5 | overall: 3.5
Coming out of the bottle it looks almost like water. In the glass it is very clear, visible carbonation and with just a touch of straw color. A modest frothy film retains well.
In the nose it is first grassy, floral and herbal. This is followed by a cereal grain sweetness.
In the mouth it drinks smoothly and with a slight crispness. Clean but with a grainy malt flavor. There is some grassiness and mild hops spiciness in the finish. The body is light but with some character.
Not sure if this is the same beer as Bavik Pils or a different version renamed Super Pils. I've had Bavik Pils and it was watery and pretty non descript. Regardless, I liked this version or experience better.
688 characters

3.3
/5
rDev
-11.3%
look: 3.75 | smell: 2.5 | taste: 3.5 | feel: 3.75 | overall: 3.5
Poured from can into a pint glass
Appearance – The beer pours a clear golden amber color with a billowy white head of foam. Over time the head fades a ton of foamy lace on the sides of the glass.
Smell –The aroma of the brew is strongest of cereal grainy smell with a modest amount of a somewhat skunky and herbal smell. Mixed with these aromas are a little bit of caramel and a touch of earth and yeast.
Taste-The taste begins with a caramel sweetened grainy taste that has a touch of earthy hop and some yeast. As the taste moves on the graininess dwindles a little bit all while the sweetness remains. During this time a bit more hop of an herbal and more earth come to the tongue and leave on with a somewhat sweeter, but still rather crisp and clean taste to linger on the tongue.
Mouthfeel – The body of the brew is on the slightly thinner side with a carbonation level that is rather high. For the style and the flavors it is a nice feel and makes for an easy drinking brew overall.
Overall – Crisp, pretty flavorful and easy drinking. A pretty decent pilsner overall.
1,094 characters
4.93
/5
rDev
+32.5%
look: 5 | smell: 5 | taste: 5 | feel: 4.75 | overall: 4.75
A truly fabulous and premium Pilsner. I cannot complain. From the makers of Petrus and Wittekerke, you would expect something very good. Nose- a good pilsner light hoppiness and yeast without variation on the classic, very crisp expectations. Taste - essentially good to great drinking, sessionable, not filling, very crisp, not too sweet or sour, but very nicely balanced. The red can promises a very good product with several details of the brewing process here. Surprising that there is not much more hype around the Bavik Super Pils. It places amongst my favorite pilsners. It tastes very refreshing, clean, without brew-b.s. and very traditional and high quality ingredients.
688 characters
4
/5
rDev
+7.5%
look: 4 | smell: 4 | taste: 4 | feel: 4 | overall: 4
Newly revamped with 100% malt, smooth aroma hop additions and a cold maturing process bring the pilsner style back to its roots. Sometimes the road to perfection means don't over-think the simple stuff.
Super Pils pours with a bright and gleaming golden straw color and with a charming dance of intertwining carbonation that fuels a creamy white meringue to crown the glass. Fresh bread, honeysuckle and herbal hints of lemongrass and pepper decorate the nose while its taste compounds upon the breadiness, dough, yeast and a brisk grain sweetness that's curiously remiss of angel-food cake.
Yet, the sweetness dissolves effortlessly on the tongue and the rustic grain character carries a faint fruit and spice medley across the middle. Apple and lemon dance across the tongue with a light ester and sulfur tandem before the crisp bitterness of hops close the session. Herbal and playfully grassy, the finish is slight of sassafras, peppercorn and hay.
Medium-light, the beer's body is lightened by a carbonation level that's part creamy then trailing zesty and with a light scrubbing action in the throat. Minerally for crispness, the beer's appropriately bitter finish lingers just past the echoes of malt and fruit have subsided.
1,236 characters
Bavik Super Pils from De Brabandere
3.72
out of
5
based on
10
ratings.